August Mission Reports
Mission Reports for Greenville, Spartanburg, and Tri-County offices
Greenville

Want to participate in a fun event, contribute to a great cause, while supporting and interacting with local warriors? Please join us for one of our signature fundraising events, the 5th annual Warrior Classic Golf Tournament at Pebble Creek! This tournament helps to fund critical programs such as our Employment program, the UWS Fellowship Academy, and our Justice Involved Veteran program. There are options available for your company to join others like Cintas, IPS Packaging, Northwestern Mutual, Powdersville Self Storage, Raymond James and many others. Or, you can personally purchase a team. The event will be on September 30 at Pebble Creek Country Club. Registration will be at 0930. Tee-off at 1100. It is $400 per team, $400 to sponsor a warrior team, $500 banner and t-sign, $1000 team and signs included, $1,500 your company can have a table on the course and be interactive with the players.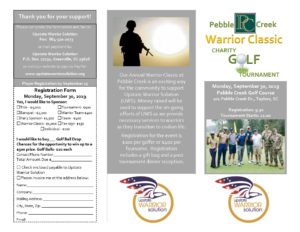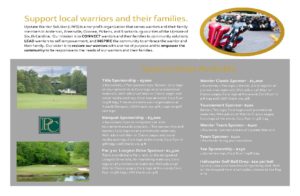 Come hear from your US Senate and US House Members' congressional aides on Tuesday, August 20! Topics of discussion at the Upstate Veteran Alliance Network (UVAN) meeting will focus on veteran concerns and other items that affect our community. The event will be held at the USC-School of Medicine in Greenville (607 Grove Road, Greenville, SC 29605). Please RSVP at this link: https://bit.ly/2YW60wp. We hope to see you there!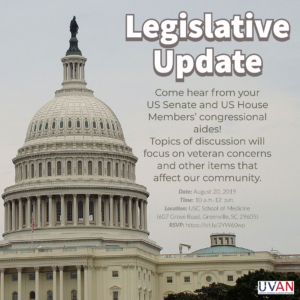 On Thursday, August 29, Greg Quarles, South Carolina Arrows for Heroes Executive Director and Southeast Chapter President, will embark on a 357-mile walk across South Carolina to raise awareness for Veterans and South Carolina Arrows for Heroes. The 14-day trek will take him through various towns and cities in South Carolina to raise awareness for Veteran issues, mental and physical health care. He will be stopping in towns and cities along the way to meet with Veterans, public officials, and media. Greg will be accompanied along the way by his certified support therapy dog, Bachelor, and a chase vehicle. On his second day, August 30, Greg will arrive at Clemson University Memorial Field and meet dignitaries from the University, Clemson Athletics, and veterans at the Scroll of Honor Field and Memorial Park at 12:00 p.m..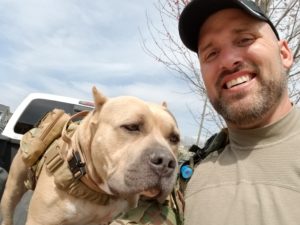 For next month, all UWS offices will be closed on Labor Day, Monday, September 2. If you have an urgent counseling need, please call the Veterans Crisis Line at 1-800-273-8255 and press 1.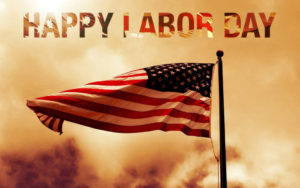 Representatives from UWS will be attending the 6th Annual Warrior Community Integration Symposium, hosted by America's Warrior Partnership. The symposium will be held at the Marriott Marquis in Atlanta, GA from September 4-6, 2019. "This September, hundreds of leaders from public and private sector will gather to share best practices, learn from inspiring speakers, and connect with resources available to empower military, veterans, families, and caregivers."

We would like to invite you to the VA Transition and Care Management (TCM) Program. This VA TCM Program cordially invites all OEF/OIF/OND Veterans to their Welcome Home Veteran Forum on September 11 from 10 a.m. to noon. The forum will be held at the Greenville Community-Based Outpatient Clinic (41 Park Creek Drive, Greenville, SC 29605-4270). At this event, you will be able to meet your TCM Team Members, ask questions and learn about our program, meet and encourage fellow combat veterans, receive information on benefits and resources.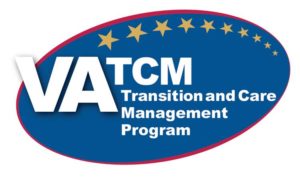 Want to grab a cup of coffee with like-minded peers? We invite you to join us for our Veteran Coffee Meet-up on the second Thursday of every month, at Grateful Brew, from 8-9 a.m.. No RSVP will be required. The next meet-up will be on September 12. We hope to see you there!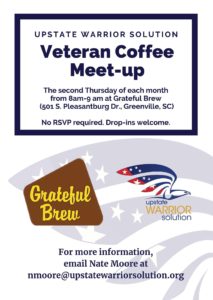 Join us at Revel Event Center on September 27 for an evening of delicious bites and bourbon sampling. Distilleries from all over the country will pour samples while ticket holders taste porky treats from their favorite local restaurants. Dozens of whiskey and bourbon brands on-site! Show your taste buds the time of their lives with some of the best bourbon and bacon-themed bites in the country with Bourbon & Bacon Fest, presented by Carolina Heating Service! You'll sip bourbon from distilleries large and small and taste rich and taste smoky bacon presented in ways you never even imagined! Tickets are easily tailored to the Bourbon & Bacon experience you'd like to have. General admission tickets are $40. Designated driver tickets are $30. Bourbon & Bacon Fest benefits our team at Upstate Warrior Solution. Please note: 10% of ticket sales (minimum of $1,500 and maximum of $3,000) will benefit UWS. Purchase of tickets is not a tax deductible donation. Event is 21 and over. More info at http://greenville.bourbonandbaconfest.com.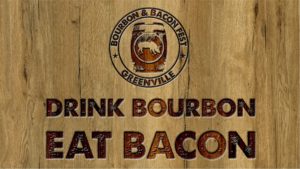 We wonder if you would consider taking the Mission Roll Call survey. Mission Roll Call is a program of America's Warrior Partnership. The survey is only one question long. Click here to take it now: #missionrollcall.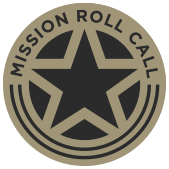 We are pleased to announce Virginia Barnes and Marc Shen have accepted part-time and full-time positions, respectively. Virginia is the UWS Family Support Coordinator and Advocate. Marc Shen is the UWS Fellowship Program Manager.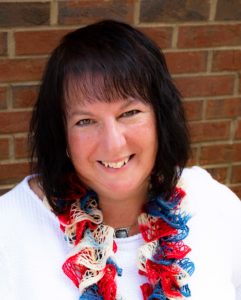 The UWS United Way of Greenville County AmeriCorps VISTA Matt Edson graduated from his 2018-19 service year with us. Join us in congratulating him for finishing his year of service with us.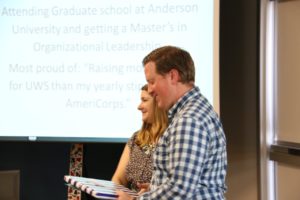 Spartanburg

Kaitlan Morehouse, who served in our Spartanburg office, started her second year of AmeriCorps VISTA service with us on July 23, 2019.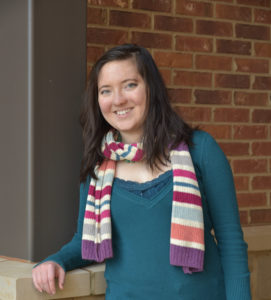 Our Spartanburg team would like to invite you to the Guiding Reins Open House at Hemlock Hollow Farm (331 Clement Loop Road, Inman, SC) on Saturday, August 24. Join them for Natural Horsemanship Demonstrations. You will be able to meet the owners, horses, instructors, and board members. Light refreshments will be provided. Guiding Reins is an equine-assisted therapy program, dedicated to improving the quality of life for military personnel, their families, veterans, first responders, people with special needs, or others affected by mental, physical, emotional-trauma and/or challenges.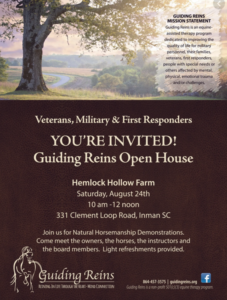 We will hold their Community Action Board meeting on September 12 at United Way of the Piedmont from 10 a.m. to 12 p.m.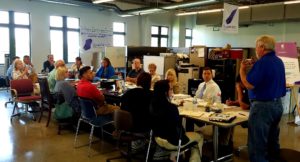 Tri-County

Our Tri-County office participated in several orientation sessions at Clemson University and offered services to new student veterans as they make their start at Clemson University. We look forward to participating in the Clemson Student Veterans Motorcycle Benefit Ride which will take place on September 28, 2019. Registration for the event will take place at 10 a.m. at the North Entrance to Memorial Stadium. The ride will end at Harley Davidson of Greenville.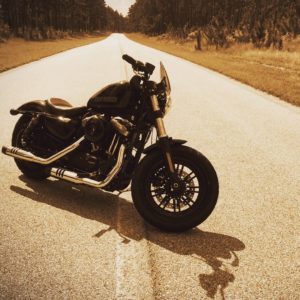 Our Tri-County team will be participating in the Oconee Job Fair, which will take place on August 22, 2019 from 4 p.m. to 7 p.m. at the Shaver Complex in Seneca, SC. Last year, there was a huge turn out from employers and job seekers, and we look forward to connecting with veteran friendly employers as well as veterans in the community this year!

More updates will be up next month. For more information, check out our Facebook or website calendar. We hope you have a happy August!