SHUTTER RELEASE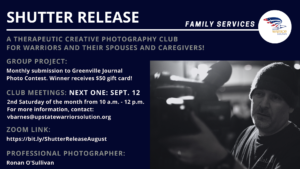 Join us for this month's meeting of SHUTTER RELEASE, a Therapeutic Creative Photography Club! The club will meet on September 12 from 10 a.m. to 12 p.m.
For more information or to register, please visit this link. The Zoom link can be found here.
About SHUTTER RELEASE: SHUTTER RELEASE is a therapeutic, creative photography club for warriors and their spouses and caregivers. There will be a different group project every month, which can be submitted to the Greenville Journal Photo Contest. The winner of the contest receives a $50 gift card. The meetings are held on the second Saturday of every month from 10 a.m. to 12 p.m.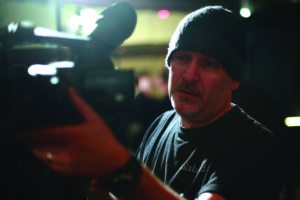 About the Professional Photographer: Ronan O'Sullivan is an Irish-American filmmaker and photographer with a degree in film production from the City University of New York, Brooklyn College. He has shot several short films and commercials. His black and white film Samuel and Ruin were screened at Draiocht Arts Centre, Dublin and were selected for screening by the Los Angeles International Short Film Festival, The Atlas Film Festival in NYC, The Limerick Film Festival, and the Disappear Here Film Festival in County Donegal over the last few years. His film Dani Demon was selected by the Galway Film Fleadh's 60 Second Film Festival in 2015. He has directed numerous music videos. A recent photo assignment for To Children With Love, a charity organization, was exhibited at Dublin City Council offices and at the Marriott Renaissance Hotel, Moscow in the Russian Federation. Ronan worked in a number of Irish schools and as a tutor in film/photography studies in Luttrellstown Community College, Dublin 15. He has a feature-length screenplay about the 2001 World Trade Center attack with Akaya Films in New York City.