Fellow Countrymen: Where Family and Honor Come First 
Written by Virginia R. Barnes 
Edited by Kaitlan Morehouse 
Picture by V.R. Barnes
He is a man of honor. A humble man. A Marine Veteran who returned home from service and encountered his own challenges while he transitioned from Military to Civilian life, a transition that is no easy feat for most. He is David Nardone. During his transition, he saw a need that was not being met by the community. Veteran homelessness was at the forefront of the problem. He was inspired by a friend whom he volunteered with at Upstate Warrior Solution. His friend was going to lose his home. David, the selfless and serving man he is, was ready to invite his friend to reside at his home. However, David's family had concerns and, therefore, took immediate action to come up with a solution. David and his wife, Renee, had a friend at church who had a home that was used as a "Man Cave." The home was uninhabited. Instead of complaining, David acted. With one phone call to the homeowner, David and Renee's life changed. In June, The Nardone's were gifted the building. They founded Fellow Countrymen in late 2016.
This was a dream that was brought into fruition with the help of family, friends, and community. They started with no money and minimal acquaintances as they were new to Taylors, SC, but what they lacked in money and community, they made up for with prayer, belief, determination, conviction, and a lot of hard work. As time progressed, goals were conquered.
According to Fellow Countrymen's website, "Fellow Countrymen is a community-based nonprofit committed to ending Veteran homelessness within the Upstate of South Carolina. Our team is comprised of Veterans, Patriots, and 'Fellow Countrymen' (a compatriot) who first followed their hearts in 2016, stepping out in Faith to help their neighboring homeless Veterans. Since our founding in late 2016, we have housed and supported over 760 Veterans in their transition to a normal life after homelessness and transitional struggles. We are currently in the fight and providing two separate homes with a total of 13 beds for homeless Veterans in Greenville, SC."
Their website also states "Fellow Countrymen's core values are HONOR. David and his team lead with honor. They Humble themselves. They put Others first. They are Needful of Blessings. Always Open to His purpose for own life. Without reserve, Ready to receive and serve." Their website states their mission as the "RECOVERY – Returning to a normal state of health, mind or strength, REHABILITATION – To restore to a condition of good health, ability to work or the like, RESILIENCE – The ability to recover readily from illness, depression, adversity or the like, and RELIANCE – Confident or trust for dependence."
As Fellow Countrymen grew, David knew he could not continue to grow Fellow Countrymen without assistance. Renee, a volunteer and active participant in Upstate Warrior Solution Cornerstone Heroes, a support group within the Family Services program, resigned from her full-time position with Corporate America to partner with her husband. Together, they lead by a passion of loving people, our Veterans
David and Renee like numbers. Their number of sentiment and impact is the number twenty-two. Unfortunately, twenty-two is the number of Veterans we lose to suicide daily – if you struggle or know someone struggling, call 1-800-273-8255 then press 1. April 22, 2017 was the goal for Fellow Countrymen's Grand Opening, the Ribbon Cutting. The meaningful goal was collaboratively met. The date so important and sentimental as the opening was in honor of Jordan Haerter and Jonathan Yale who on April 22, 2008, with selfless sacrifice to never be forgotten, lost their lives in the line of duty. Click here to learn more about our two Marine Heroes.
On April 22, 2017, David and Renee were filled with honor and humbled as Jordan Haerter's Mom, Mrs. Lyles, traveled from New York to South Carolina to attend their Grand Opening of Fellow Countrymen. Proudly, David and Renee opened their doors of their first Transitional Home that offered one bed. This was an accomplishment to be proud of! Their first resident was a twenty-one-year-old male Veteran.
The young man was with Fellow Countrymen for 8 months. During this time, David mentored the Veteran with leadership, spiritual insight, love, support, encouragement, and resources to help the man, who is engaged in the community, start a new and stable life – All it takes is love, right? All it takes is to know you are not alone and have just one person out of an entire world to show up and unconditionally love another being. Fortunately, a happy ending was accomplished. The young man now works at the Greenville Detention Center and aspires to be a police officer.
Today, Fellow Countrymen operate two transitional homes for a total of thirteen beds with the dream of continued growth. Prior to June of 2019, Renee maintained her full-time career in Corporate America while assisting David behind the scenes when she was available. Now, a retiree from Corporate America for the last year plus seven months David, Renee, and the team continue to build Fellow Countrymen. Renee is the driving force of the home front. Renee is a firm believer in that we, all organizations and community members, are one team in the mission of ending Veteran homelessness, and death by suicide. Renee's experience as a spouse of a Veteran and retiree of Corporate America allows her the skill-set to support their team, keep them on track, and implement balance between Military and Civilian life. Often, it is Military and Veteran spouses and families who remain in the background.
The truth is the spouses, caretakers, and families of Veterans, Military and First Responders are the front-line at home. They take on the responsibilities of raising their children and managing the home when their loved one is deployed. Most times working a full-time job and/or going to school in addition to the above responsibilities. Their once concern for the safety of their loved one on foreign soil now a personal experience in their backyard when 9-11 took place. The terrorist attack shaking not only physical buildings and robbing innocent lives, but shaking the life within homes operated by spouses, caretakers, and families to their inner core, turning some family's upside down, leaving countless in turmoil, often feeling the relatable impact of their Warrior. Upon completion of deployment, loved ones return home to face a new set of challenges, that being the transition from Military to Civilian life.
Renee, alongside David and their team, plays an important role in helping Veterans with their transition. Veterans who struggled with the challenges became dependent on less then desirable addictions to curve the pain and struggle. They are now accepting and trusting help and guidance available to them.
One day, during lunch, I asked Renee what Fellow Countrymen meant to her.  She replied, "They are family. Family is what you make of it. Family does not have to be blood."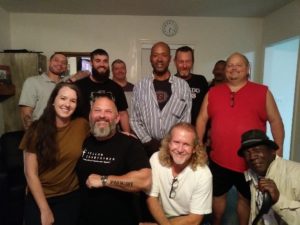 Renee continued, "Our Veterans deserve to be treated with dignity. We try to instill that you have to build that level of trust. Trust is hard to gain. David has been in that position. His life experiences drive Fellow Countrymen. For me, it started out as a job to support David based on my experience in the corporate world. Now … now… it is a job, but IT IS A GIFT TO SERVE. We strive for that joy and smile for someone."
It was an honor and pleasure to experience in person just what Fellow Countrymen is all about. It was a special opportunity to join David, Renee, Fellow Countrymen (all male Veterans) and volunteers, on Thanksgiving Day of 2020. Everyone was welcoming! Everyone contributed to the Thanksgiving feast from setup, decor, and food to clean-up. The food was delicious! The best part of the experience was sitting down together to enjoy the bounty. The table was a full rectangular extension of the front porch covered with a festive tablecloth and mini turkey candles. Seated around the long table with our food before us, we started with a prayer. Afterward, we each took turns sharing what we were grateful for. Each of us thankful for many blessings throughout 2020, even during the worst of times. The sun was shining and tempuratures just warm enough to enjoy outdoor dining. We proceeded to eat and engage in conversation covering a variety of topics. It was pure serenity and peace. It was family!
It was then I truly felt the heartbeat that makes up Fellow Countrymen. David, Renee, and their team work hard and with conviction and hearts of gold to help others, often going beyond the call of duty. Renee shared with me they are both spirit leaders. They are open and listening to their subconscious voices. This resonates with me. While chatting with Renee, I asked what the holidays mean to her, what it means to share the holidays with the Fellow Countrymen that participate in a program led by the Nardone's and community partners.
Renee said, "Holidays are hard. They are hard enough when you do have stability and needs met. That is stress enough. Fellow Countrymen believe that sharing the holiday's with family and friends allows each of us to lighten the stress and instead incorporate joy and laughter. Their core values evident, exhibited naturally and raw. "Fellow Countrymen's core values are HONOR. David and his team lead with honor. They Humble themselves. They put Others first. They are Needful of Blessings. Always Open to His purpose for own life. Without reserve, Ready to receive and serve."
As if I did not already love and respect David and Renee, after spending only a few hours with them in their environment, I only departed the home with more appreciation and admiration for the work they do to help our Veterans. I am grateful to play a small role in #oneteam to help end Veteran homelessness and death by suicide! Working in our profession requires a team approach between fellow organizations and our communities. After all, we share the commonality to help our Military, Veterans, First Responders and their families transition from Military to Civilian. We practice being proactive not reactive. We are a collective to end Veteran homelessness and suicide once and for all! No Veteran should reach such grand despair to take one's life by suicide or land homeless using the woods as their habitat. I am proud to work alongside my team at Upstate Warrior Solution as well as with our fellow community partners like Fellow Countrymen.
If you know of a homeless Veteran or struggle with housing stability, please visit Fellow Countryman's website at fellowcountrymen.org, where they have their successes, applications, and more. The Nardone's believe in meeting our Veterans where they are.