Warrior Wednesday: Corey Cowart
Today's Warrior Wednesday is Corey Cowart! Corey said he proudly served in the World's Finest Navy from 1988-1992 as an aviation machinist mate, 3rd Class Petty Officer, and enlisted as an aviation warfare specialist. He went on four cruises in total with two deployments during Operation Desert Shield and Desert Storm in the Red Sea and the Persian Gulf.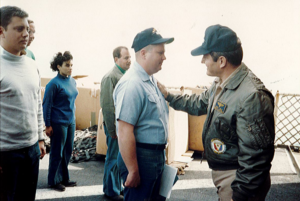 "I was assigned to HC-6 Squadron Detachment 5 as an H-46 helicopter mechanic. We had a small crew of sailors, and the trust for each other, as well as maintenance quality, had to be very high. I made this quality standard for myself into a full career in the civilian world. I medically retired from the workforce two years ago as a quality manager. Now, at this stage in my life, I enjoy volunteer and fellow work with Upstate Warrior Solution, helping veterans with employment needs and all that entails," said Corey.
Corey was referred to Upstate Warrior Solution through Prisma Health, one of our numerous community partners. Corey lives in Anderson County with his wife.