Community Rallies around Army Veteran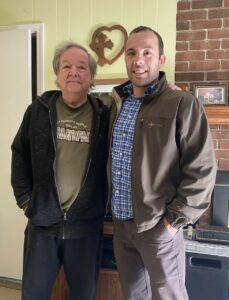 Thomas B. served two years active duty in the U.S. Army from 1966-1968 before transferring to the Reserves. In January 2023, Thomas was referred to UWS by his insurance agent when his water heater broke. The cost to repair was below his deductible and more than Thomas and his wife could afford. The couple lives on a fixed income and were already experiencing difficulties meeting their mortgage, utility bills, and other needed repairs. When we connected with them, they only had $60 left in their bank account. 
Our Anderson County team collaborated with several organizations and businesses to help Thomas and his wife get their feet under them again financially. We partnered with Glen Pluming, a local handyman, and a private donor to get a water leak repaired and the water heater replaced. We also coordinated with AIM for assistance paying the high water bill that resulted from the leak and tapped into community-based food banks and emergency resources to provide enough food and gift cards to sustain the couple for over two weeks while their budget was maxed out.  
Currently, our team is seeking resources to address needed vehicle and appliance repairs. We are also working with Thomas to find ways to financially plan for unexpected needs in the future.  
A heartfelt thank you to Orville Baptist Church food bank, Meals on Wheels, North Anderson Baptist Church, Vets Helping Vets Anderson, Glen Plumbing, and several generous donors from the community for supporting Thomas and his wife!