International Survivors of Suicide Loss Day
International Survivors of Suicide Loss Day: November 23, 2019
Each year, the American Foundation for Suicide Prevention supports hundreds of large and small Survivor Day events around the world, in which suicide loss survivors come together to find connection, understanding, and hope through their shared experience. While each event is unique and offers various programming, all feature an AFSP-produced documentary that offers a message of growth, resilience, and connection.
Mental Health America of Greenville County will be sponsoring an event for survivors in Greenville, SC. It will be on Saturday, November 23, 2019 from 11am-1pm at St. Michael's Lutheran Church. The event is free and lunch will be provided.
Register here: https://afsp.org/survivor_day/greenville-south-carolina-2/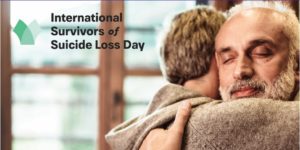 If you are a survivor of veteran suicide, you have the potential to be part of a national research study called Operation Deep Dive.
Operation Deep Dive is a first-of-its-kind, community-based military veteran suicide prevention study taking place in 14 communities across the country. This four-year study is a partnership between America's Warrior Partnership and researchers from the University of Alabama that is funded by a grant from Bristol-Myers Squibb Foundation.
The goal of Operation Deep Dive is to identify the risk factors that lead to suicide and deaths from self-harm in veteran communities. This will help guide the development of programs that will improve the quality of life and reduce self-harm and suicide among veterans.
If you are the survivor of veteran suicide from 2019 to the present and would like to learn more about participating in the study, please reach out to Upstate South Carolina's community research assistant Alice Yatsenyuk at 864-423-7116 or upstatescopdd@americaswarriorpartnership.org.
Learn more about the study here: https://americaswarriorpartnership.org/deep-dive/