June Mission Reports
Mission Reports for Greenville, Spartanburg, and Tri-County offices
Greenville

The West Greenville Community Center hosted our team last month for our staff training day. Thanks, West Greenville Community!
We hosted a Veteran Coffee Meet-up on May 9 at Grateful Brew from 8-9 a.m. We will continue to hold these events on the second Thursday of every month. No RSVP will be required. We hope to see you there!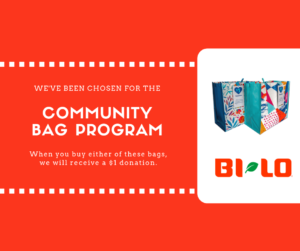 We are excited to announce UWS has been selected as the beneficiary of the Community Bag Program. Each time the $2.50 reusable Community Bag is purchased at the BI-LO SuperSaver (3715 East North Street, Greenville, SC), during the month of June, we will receive a $1 donation. Community Bags can be found at the reusable bag rack and at various registers.
We have partnered with Honoring their Service, who are Americans who respect and honor the service of our veterans and want them to know they care. Their purpose is to give the community an opportunity to say thank you and to show members of our military, our veterans, they are people who appreciate what they do on our behalf, day in and day out. Their signature event is hosted annually in partnership with the Roger C. Peace Rehabilitation Hospital, for combat veterans from the Marine Special Operations Command (MARSOC) "Raiders" and Veterans of all Armed Forces, sponsored by UWS. They will invite them into their homes in Keowee Key in South Carolina for four days, during which they will share their amenities and the surrounding community's. They will be inviting the warriors to bring along their spouses. Some activities will include one-day waters sports activities, co-sponsored with Roger C. Peace and UWS. They teamed up with Roger C. Peace Rehabilitation Hospital to create the Peace House and with Purple Heart Homes to create the Golden Corner Chapter to remodel homes for veterans with disabilities. More details at https://honoring-their-service.org/.
We will be hosting a Mental Health First Aid USA training day for warriors and their spouses and/or caregivers. The training will be from 8 a.m.-5 p.m. with a lunch break included. This class will be taught by Robyn Jennifer Ellison, Education Coordinator at Prisma Health-Upstate. The class will allow warriors and their spouses/caregivers a 3-year mental health certificate and the training to provide initial help to people experiencing mental health concerns, such as anxiety disorders psychosis, and substance use disorders. If interested, sign up here: https://upstatewarriorsolution.charityproud.org/EventRegistration/Index/2230.
We will also have a VTC Mentor Training for the 13th Circuit Court from June 19 to 20. VTC is a means for eligible veterans to be diverted from the traditional criminal justice system and provided support and rehabilitation, like other diversionary courts (I.e, Drug Courts, Mental Health Courts). To be eligible, the veteran must be charged, as opposed to convicted, with a qualified, nonviolent felony, one which ties to their military background. For instance, the veteran might be arrested for illegal drug use, alcohol misuse, or firearm charges and have a prior diagnosis of PTSD. The court will assign them a peer mentor, who will support and encourage their participant counterparts as well as assist with court proceedings and maintain weekly communication and provide guidance throughout the program.
We will join The Greenville Drive for the 2019 Military Appreciation Day at Greenville Drive at Fluor Field on Sunday, July 7 as we celebrate those who have served and are serving our country. The fun begins prior to gates opening at 2:00 p.m. The team will play the Charleston RiverDogs, and the first pitch will be at 3. There will be aerial flyovers among other events. We hope to see you there!
Spartanburg

We are excited for the UWS First Annual Veterans Ride on June 15, which will be sponsored by Colossians 3:2 Riders. The route will take participants from Christian Fellowship Baptist Church (CFBC) to the Union National Guard Armory, where a designated veteran will speak. Then, everyone will ride to Cowpens National Battlefield, where another veteran will speak. All proceeds will go to UWS. There will be a free pancake breakfast as well as door prizes. For more information, visit the event Facebook page here or contact Ken Ivey at 864-4665014 or visit the Colossians 3:2 Riders Facebook page.
We are pleased to announce the hiring of Lauren O'dell who will be on full-time as a Warrior Advocate. She looks forward to meeting and assisting veterans in our community.
Tri-County

We partnered with Emmanual's Hammer and SC Legal to assist an elderly Marine Corps veteran, Larry, with setting up a Will and POA. UWS was informed about the veteran's situation by Emmanual's Hammer, and in one hour, we responded to the veteran's home. After a joint effort between the organizations, the veterans legal and healthcare needs were resolved.
We are pleased to announce the hiring of Thomas Wood who will be on full-time as Warrior Advocates. With the ever-growing workload and coverage area Rudy has been assigned to focus in the Anderson area, and Thomas will be focused primarily in the Pickens and Oconee area. They both look forward to meeting and assisting veterans in our community.
More updates will be up next month. For more information, check out our Facebook or website calendar. We hope you have a happy June!