Military Spouse Appreciation Day
It's Military Spouse Appreciation Day! Today, we honor the significant contributions, support, and sacrifices of the spouses of the Armed Forces, and the Executive Assistant for Upstate Warrior Solution President Charlie Hall, Kia Clay, is a military spouse!
Kia is a virtual assistant through Freedom Makers. She has been a military spouse for 14 years. Her husband is currently an IT Chief in the U.S. Navy. He has served for 18 years and been on three deployments. Kia said, "
We are looking forward to relocating in the near future to Whidbey Island, WA which will be his last duty station before retirement. Go Navy!"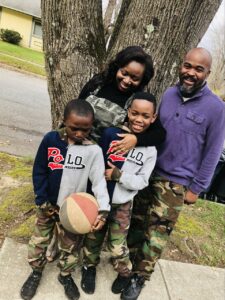 When asked what her husband's military service has been like for her, Kia said, "I consider myself extremely blessed being a military spouse. Throughout my husband's Navy career, I've enjoyed traveling overseas to go visit him and meet new people. The military lifestyle is relatively stressful, so I've had to find ways to make it less stressful. While my husband was deployed, I was fortunate enough to finish my Master's degree and graduate Summa Cum Laude in the field of counseling. Later, I joined my local FRG group and was elected President. I loved serving along my fellow military spouses because they understood the struggle and the various hardships spouses go through while their service member is deployed. I continued being an active volunteer with the National Military Family Association which helped opened the door for me professionally."
Thank you, Kia, for your support and sacrifice!