Outdoor Adventure Success Story
Mr. Hammons served our country in many ways. He was an Army Engineer in Korea then a Navy Seabee in Vietnam. During both combat deployments, he fought with great fortitude and sacrifice. After returning home, he became a policeman and worked until his retirement.
When he was a young man, he lived in McComb, Mississippi. After school, he would sneak over to a nearby airport and volunteer to clean the hanger floor, wash airplanes, and service them with gas and oil, which was all against his mothers strict orders not to go to the airport. For payment, Leonard received flight lessons until his older brother ratted him out to his Mom.
Mr. Hammons, who is now under the care of Wren Hospice, suffers Parkinson's disease. A fellow Vietnam Veteran Thom Iannarino, pictured, visits with him, regularly. As he approached his 87th birthday, Leonard expressed to his family and Thom about his dying wish, which was to be able to fly once again in a small Cessna airplane, like the one he loved so long ago.
On Wednesday, July 3, 2019, the day before our country's independence day this year, we celebrated the independence of our one of our countries heroes as we helped him fly again! His smile was ear to ear as he again sailed through the clouds.
Special thanks to Wren hospice for sponsoring this flight and Thom Iannarino for being his support mentor and for contacting Sid who runs the UWS Outdoor Adventure Program and assisted in putting this together. Thank you also to Pilot Mike Griffith from the Flight School of Greenville.
"This is the reason I created this program to assist combat veterans who suffer disabilities or hardships and to find a way to connect these warriors with the opportunities they are looking for," Sid said.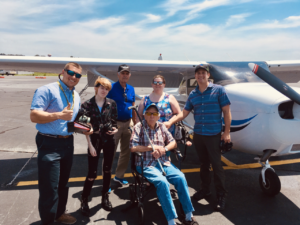 People in group photo: From left to right, Pilot Mike Griffith, Mr. Hammons's Granddaughter Dani Boutwell, Volunteer and Fellow Vietnam Veteran Thom Iannarino, Mr. Hammons's Daughter Jessica Boutwell, Upstate Warrior Solution Outdoor Adventure Coordinator Sid Eargle, and in the center is Korean War and Vietnam War Veteran Leonard Hammons.
Click the link below to watch Mr. Hammons's interview:
https://share.icloud.com/photos/0cSMHW34gA1kniGkomxJKGVrA