Providing Relief through Collaboration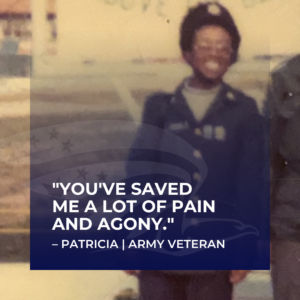 Patricia Johnson-Williams served in the US Army from 1981 to 1984. She connected with UWS in 2016 through our partnership with United Way of Anderson County. At the time we were able to assist her with housing stability. She reconnected with us late 2022 needing a way to shower safely given her specific physical limitations. "I dreaded taking a shower because of the pain in my knees," Patricia shared. She was at risk of falling and had a difficult time getting into her standard shower and standing for long periods of time.
Our Anderson County Warrior Advocate, Josh Colburn, reached out to our community network of resources to assist Patricia. Thanks to a generous donation by a Vets Helping Vets Anderson (VHVA) member and some muscle from VHVA and Upstate Warrior Solution, Patricia is now be able to shower safely and comfortably in a new walk-in tub.
"I just want to say thank you," Patricia said. "Just a couple phone calls with Josh helped get the process going. You all understood my physical limitations and connected me to a walk-in tub. Now I can safely take a shower without worrying about falling. You've saved me a lot of pain an agony."
Our mission is to help foster an environment where there's no wrong door for veterans to access resources and improve their quality of life. We are grateful for our community partners like United Way of Anderson County and Vets Helping Vets Anderson for helping make this a reality.