Ryan Flynn: "Trust the Process"
Ryan Flynn joined the Marine Corps in 1998 as an infantryman. During his 23 years in the military, he was deployed six times, including a combat deployment to Iraq. He was honorably discharged this year as a Sergeant Major.
Flynn connected with Upstate Warrior Solution (UWS) in November of 2020. At the time, he and his family were living in California. His last day in uniform would be in June 2021, and then his family would relocate to Greenville, SC in July. Flynn reached out to our team seeking assistance with his job search in the Upstate.
Flynn faced two common hurdles for veterans transitioning out of the military: Translating his military experience into language that stands out to civilian job recruiters and connecting with a network of people who understand the value veterans bring to the workforce. "There's a lot of trepidation when a guy like me gets out of the military after 20 plus years," Flynn said. "I had no college degree and didn't know how to communicate the experience that I had."
Before he left the Marines, Flynn was responsible for the supervision of all functional areas of his battalion. Our team saw that experience as highly transferable. We worked with Flynn to identify his strongest aptitudes through YouScience and to ensure his resume reflected his experience with administration, logistics, training, and professional development.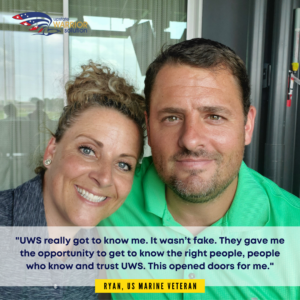 To aid his job search and networking opportunities, UWS also connected Flynn to key contacts within our employment and transition network. These included Veterans
ASCEND and the Greenville Rotary Club's veteran mentor committee, a group of civilians and former military who help service members find their post-military career.
Flynn was skeptical at first whether this networking approach would get him where he needed to be, but in the end, it worked. By the time he officially retired from the Marine Corps in September 2021, he was a month into a new job as the special assistant to the president at Young Office, a position they created for him.
"It all worked out so well," Flynn said. "UWS really got to know me. It wasn't fake. They gave me the opportunity to get to know the right people, people who know and trust UWS. This opened doors for me." He hopes Young Office is the last job he ever has. To other Upstate veterans transitioning out of the military, Flynn says: "UWS is true gangster. Trust the process; it works."