Spartanburg Community Supports Veteran Through Treatment Court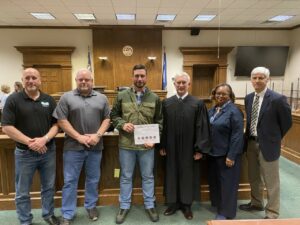 For veterans, transitioning back into civilian life is a complicated process. The psychological burdens of war and transition stress can result in anger and depression, leading some to self-medication and poor judgement. This can result in substantial life disruptions, including incarceration. Through our partnerships with law enforcement agencies, judicial courts, and treatment programs, Upstate Warrior Solution seeks to be an effective aide and advocate for justice-involved warriors like Army veteran Andrew Combs.
Combs served from 2003 to 2012. His service included deployments to Iraq in 2004 and Afghanistan in 2007. He received a medical discharge after being severely injured in a non-combat vehicle accident.
Combs connected with Upstate Warrior Solution in 2016 for assistance with housing and legal needs. In 2021, he was accepted into Veteran Treatment Court in Spartanburg. Our team coordinated care with FAVOR and GoForth Recovery to assist Combs on his path toward stability. He entered the program and began doing the hard work of compliance and positive pattern behaviors. "As he progressed through the program, Andy became more and more aware of all that hinged on his success, not only for himself but also for his family," says Zach Goff, UWS' Justice-Involved Warrior Advocate. "Andy really pressed in to achieve goals for himself and his loved ones. It has been a pleasure observing this transformation in him."
Our team helped connect Combs to Chris Pfohl, who served as his mentor through the VTC program. "It has been an honor to watch Andy work through the process of his Veterans Court experience," says Pfhol, the director of Warriors Once Again, a transitional residence for veterans in Spartanburg County. "It has led to his ultimately taking complete ownership of both the external circumstances which got him here, and the internal processes which have wrought a real change in him as a person."
Combs officially graduated from treatment court on March 31st, 2022, with Chris Pfohl, UWS staff, and other community members present to celebrate with him. "I am very proud of Andy," says Pfohl. "I am fully confident that the Veterans Court program worked perfectly to bring him to a wholeness that would have been far more elusive under normal circumstances."