Success Story: Blake S.
Upstate Warrior Solution connects local veterans to resources in the community. Recently, we connected this Army veteran, who is moving to Upstate SC, with Veterans ASCEND and have been working with him on resume and employment assistance.
As a post-9/11 Veteran from Staunton, Illinois, Blake served Active Duty in the U.S. Army from 2010 to 2015 as a specialist (SPC), E-4. He was stationed at Fort Campbell in Kentucky and deployed to Afghanistan four times. In 2015, he was honorably discharged.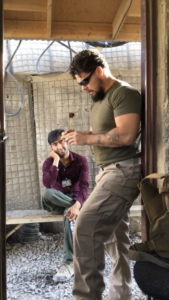 Reflecting on his transition out of the Military, Blake said it was rough. He said he went from having a structure in his life to nothing of the sort and having to start from the ground up. He did not have a lot of resources or know the benefits veterans have.
Blake enjoyed everything about the Military, particularly the camaraderie, life lessons, and physical and mental resiliency the experience gave.
His post-transition, four Department of Defense contracts prove testament to how much he enjoyed the Military. In 2016, he worked as an armed guard at Triple Canopy in Herndon, Virginia. In 2018, he worked with Bravura Information Technologies, Inc as an Aerostat Operator in Aberdeen, Maryland, where he served as a field engineer and maintained the persistent threat detection system in support of the U.S. Army and Coalition forces in Afghanistan. After his stint as a home inspector with LadderNow at the end of 2018, he went back to Bravura Information Technologies, Inc where he continued to work as the Field Engineer but in a shift lead capacity this time.
When asked about his passions, Blake said he enjoys his current employment situation, an explosive K9 Handler. "I work with Global K9 Protection Group right now. So that's really cool." Along with his K9, Macho, he just got another dog for the position. He continues to do more than the requirements for the position to better himself and his K9 team.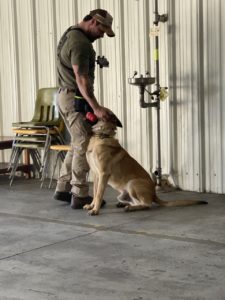 At present, Blake lives in Bensenville, IL. Recently, he decided to relocate to the Upstate of South Carolina. Looking up the Upstate SC area on LinkedIn, he came across Upstate Warrior Solution. He reached out to the UWS Greenville office in September. After the initial intake appointment, he asked if our team could assist him with resume and part-time employment assistance.
Blake said his experience with Upstate Warrior Solution has been good so far. "Everyone seems really nice and helpful," he said. He said our UWS team has called every couple of days with new information for him.
Because of our community partnerships, our UWS Greenville team connected Blake with Veterans Ascend, a locally-based company that assists veterans with employment. Together, our two organizations are helping Blake with his resume and job-hunting. One of our staff members who has spoken with the veteran, our Intake Specialist Jerry Nalley, said, "I thought that it was good that we are able to assist veterans from different parts of the country along with those who already live in the area."