Success Story: Hometown Hero
Service Member Erik C. and Family attended the Greenville Swamp Rabbits game against the Cincinnati Cyclones on February 26, 2020.  The Swamp Rabbits won 5-2 that day.
After the game, Erik said, "Thank you!" He continued, "Me and my family loved The experience, and I was truly honored to be recognized."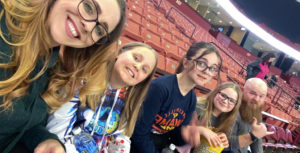 This opportunity was provided by our UWS Family Services Program that worked in conjunction with our Swamp Rabbits Representative.
At the start of the Swamp Rabbits 2019-20 Season, they were set to honor 18 veterans as "Hometown Heroes" throughout the season. The Hometown Heroes have been surprised and honored during the home games. The veterans, or Hometown Heroes, not only were honored but received five additional tickets to the game.
The next home game for the Swamp Rabbits will be March 12 at the Bon Secours Wellness Arena. Another Hometown Hero will be recognized.