Success Story: John Lee Mills Jr.  
John Mills served over seven years in the U.S. Air Force Reserves, based out of Charleston. He served in the 81st Air Force Squadron as an aircraft loader, T2X1. He was responsible for cargo transportation to and from the aircraft as well as passenger services and cargo functions.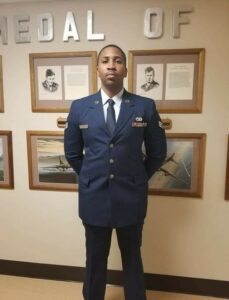 As he was coming to terms with his separation in 2019, Mills said one of his training managers called him with an employment opportunity in Afghanistan. This was as a civilian contractor position, doing the same work he did in the military, so he accepted the position.
"I had the same credentials and certifications, so it was pretty easy to kind of fall into place and get out there," said Mills. Over the next two years, he started at the lowest position and worked his way up to superintendent. 
Mills's pathway to Upstate Warrior Solution (UWS) started when he came home from Afghanistan.
Working through a disability situation with the Greenville County Veteran Affairs, he shared with Greenville County's Veteran Service Officer Alan Dabney he was also seeking employment. Dabney put Mills in contact with the UWS Employment Coordinator, Shannon Sports.
"Mr. Sports contacted me the next morning, and we had a conversation about what I wanted to do, coming back from overseas. We discussed education, employment, and things of that nature." Mills continued, "He informed me there was civilian employment in the area that matched my service career."
Speaking of his experience working with UWS, Mills said, "There were plenty of phone calls and emails in between, and each time, you can definitely feel the genuine nature of what you were being asked on each phone call and within each email. I just appreciate how the whole experience was coordinated."
Our employment team connected Mills to Kendall Griswold, the Human Resources Generalist at the Greenville-Spartanburg International Airport (GSP). "Within a few days, I had an interview at the airport," Mills said,."Within that interview, I was offered a higher position and told to reapply. I actually got hired for that position as supervisor/manager at the airport, based off my experience."
Mills started as an Air Cargo Supervisor at GSP on July 6. He said it is going well.  "It's a pretty great organization," Mills said. "I'm willing to grow as much as they're willing to let me do so." He continued, "I think I'll be around for a while."  
Mills has had such a positive experience he's encouraging his veteran friends to move to the area and connect with both UWS and the airport. "Given all of our experience collectively, I'm pretty sure we can help the company reach some new heights and accomplish some of their long-term goals – and some of our own." 
At Upstate Warrior Solution, we strive to build equitable partnerships that not only benefit the veterans we serve but the entire community.
John Mills's story shows the ripple effect those partnerships can have.
It's a tremendous success when UWS's employment pipeline connects a veteran to their post-military career. When that veteran draws others to South Carolina's workforce based on his positive experience, it's a win for the entire Upstate.
Thank you to Greenville-Spartanburg International Airport for your outstanding partnership and support of our Upstate veterans!