Success Story: Matt Dordal
By Kelley Bruss
As if the accident was not enough, Matt Dordal woke from a coma to learn he was facing criminal DUI charges too.
Dordal had never been in trouble. Now, the 20-year Marine veteran was stuck in a hospital bed knowing his next stop could be jail.
"I'd never had anything wrong with my life, and I wanted to fix it," Dordal said.
Nate Moore, the Director of Community Engagement for Upstate Warrior Solution (UWS), said Dordal had fewer issues than many veterans he's worked with.
"He's pretty squared away," said Moore, a Marine veteran himself.
But even for a squared-away veteran, things can shift quickly.
Dordal grew up in Columbia, S.C., and trained at the Marine Corps Recruit Depot at Parris Island after high school. His 20 years in the Corps included six deployments to Iraq and Afghanistan.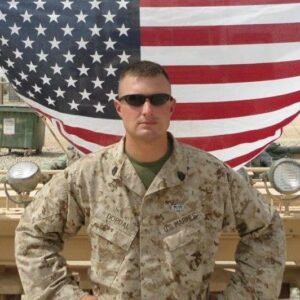 Dordal did not have trouble finding work when he retired in 2015, but it was not long before he lost the job. His management style was "too militant."
He'd taken retirement classes the Marines offered, but "there's a lot of things they don't teach you." Dordal continued, "Counseling would have been a lot more helpful to me back then."
Dordal got another job and got married. He was active in the Combat Veterans Motorcycle Association, CVMA, serving as a state representative and managing the four South Carolina chapters. While volunteering with CVMA, he first met staff from UWS, a nonprofit organization that offers wrap-around services to veterans and their families in the Upstate of South Carolina.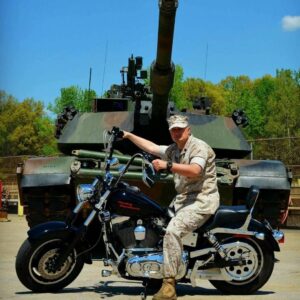 Dordal was doing what he should be doing. "That's what it looked like on paper," Moore said. "But emotionally, it's probably not the same."
When Dordal's wife left him, drinking and his motorcycle made a dangerous combination. In 2019, he was in an accident that left him hospitalized for a month with brain bleeds and plates in his knee and wrist.
"I'm very lucky to be alive," Dordal said. "I let my emotions and my PTSD lead that to happen."
UWS partners with Prisma Health to reach out to veterans. When Moore came to visit for the first time, Dordal was still in a coma. A week later, he was awake, and Moore talked him through the criminal charge he was facing as well as the emotional challenges that had contributed to his situation.
He "walked me through the process of changing my whole life," Dordal said.
Moore helped Dordal get his Anderson County charge transferred into Greenville County's Veterans Treatment Court, a program that lasts at least a year and offers accountability, education, and support outside of the traditional judicial system. Graduates have the opportunity to have their records expunged.
UWS recruits volunteer mentors for Veterans Treatment Court, including some from its own staff, and serves as a resource to veterans who are in the program. The court work is part of the organization's broader efforts to connect with and offer services to veterans coming through detention centers.
After helping Dordal get into Treatment Court, Moore volunteered as his mentor. Dordal graduated from the program as have most of the other veterans Moore has mentored.
Dordal got a new job with a nonprofit that served homeless veterans. When funding for that work ended, he took a position as a project manager with ABM Industries in Greenwood, where he is working today.
He has already volunteered to serve as a mentor for others in Veterans Treatment Court.
"If you know that this person has been through bad times and fixed it, that's helpful," he said.