Success Story: Mike Nobles
Mike enlisted in the U.S. Navy when he was 17 to earn money for college using the GI Bill. Upon graduation from the Navy Bootcamp in Great Lakes, Illinois, he completed the Electrician's Mate "A School."
Mike said on his 19th birthday, the Navy flew him from the Chicago area to Coronado, California to begin the toughest military training in the world, Basic Underwater Demolition / SEAL Training (BUD/S). Despite a broken ankle, causing a 2-week setback, he graduated with BUD/S Class 215 in February 1998.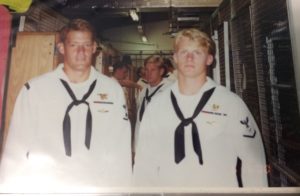 After graduation, he drove with a classmate to Fort Benning, Georgia for US Army Airborne School. After graduation, he flew back to San Diego, CA for the final block of training, SEAL Tactical Training (STT). Mike completed two deployments with SEAL Team Five then transitioned from Active Duty to the Reserves in October 2002.
Two years later, Mike was recalled, or mobilized, to augment the SEAL Training Detachment (TRADET) for the west coast. He was again recalled in 2011 and 2016, both included training and a 10-month deployment.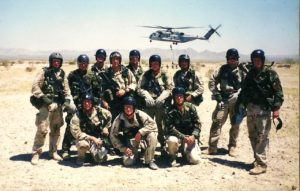 As a civilian, he first trained SEALs for four years then trained Navy Explosive Ordinance Disposal (EOD), bomb technicians, to prepare them to augment various Special Operations Units on deployments around the world. Mike said, "Our job was to prepare them for combat deployments while attached to any Special Operations Unit. My role was a team lead for the civilian contractors, and I worked closely with the Senior Military Leadership to develop and modify curriculum."
When he returned from his final deployment to Korea in 2016, he recognized he was not as young as he used to be and was too injured to continue service as a SEAL Operator. Over a period of two years including two surgeries, 14 MRIs, 48 x-rays, and many doctor appointments, the Navy ultimately medically separated him from continuous service but allowed him to retire as a Reservist after 23 years of combined service, both Active and Reserve.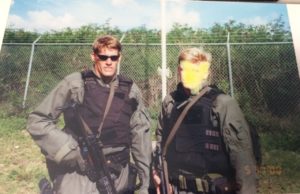 His transition out of the Military was rough. He went from a senior enlisted, E8, rank in the Navy SEAL Teams, to unemployed without local Industry experience overnight. Eventually, he received disability compensation from the Veterans Administration, which he said has been a blessing for him. Reserve retirees receive their pension between 53 and 60 years old, which is in approximately 16 years for Mike.
He has struggled about what to do next. Many former operators transition into Law Enforcement, Firefighting, or other Federal Agencies, but, physically, he cannot do it anymore.
"I have a unique problem of being able to do whatever I want since I don't have experience in any industry, but also not qualified to laterally transfer into an equivalent management position…because I don't have specific experience or college degrees," Mike said with a sigh.
Thinking back to his days as a trainer, Mike said he enjoyed most of it. Particularly, he loved the coaching and mentoring piece with a few people because he felt he made a bigger difference. "Something I'd like to do is teaching private shooting lessons," said Mike, looking ahead to his future. He said he's good at shooting, so it makes sense to him.
Over the past two years since his retirement, he started networking a lot. Mike heard about Upstate Warrior Solution (UWS) at a networking event in the Fall of 2018. He linked up with Vantage Point Foundation (VPF) through a UWS representative. He attended the Spring 2019 cohort and later attended the Fall cohort at Clemson as a mentor.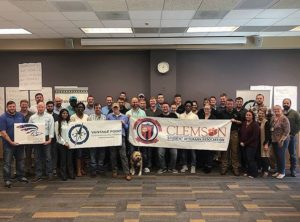 Remembering the assistance provided to him from UWS, Mike said, "UWS has also helped me find a counselor. They have given employment assistance, host[ed]. networking events, like lunch and learns, and they connected me with a military representative through Senator Graham's office, which led to guidance on filing an appeal to my medical retirement package."
Mike continued, "Recreationally, UWS has connected me with adaptive sports such as golf, they invited my family to a Lake day, another evet was tubing down the river with my daughter, and I've attended a snow skiing event."
Then, COVID-19 hit. Quarantine was mandated. In-person networking shut down.
In order to stay busy and contribute to the family income, he took two jobs: a security guard with AUS working weekends, and as a FedEx Residential Delivery Driver during the week. With these two jobs, he was working 50-90 hours a week. He has since stepped away from FedEx due to shoulder pain and to free up weekdays for networking again.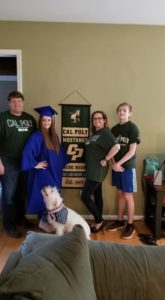 On top of COVID-19, over the summer, he noticed a water leak on the ceiling of his home, quickly learning the air conditioning unit in the attic rusted out and caused water damage. It was at this time he reached out to our UWS team.
"UWS referred me to a local veteran handyman who referred me to everyone needed to patch up my house and make it livable again," said Mike.
Shortly after filing the property insurance claim, he had a hit a concrete lane barrier and totaled his vehicle. Because he had a $500 deductible, he had to pay to get a new car. The accident forced him to quit FedEx since it reopened an old injury in his shoulder.
Because of the stress from the home repairs and insurance claim, when COVID-19 hit, it put a further financial burden on him and his family. Hearing about this, our UWS Family Services team reached out to him. Our Family Services team was able to assist him in the application process for the COVID-19 Emergency Relief Funds. Mike was awarded $1,000 to go towards his mortgage bill.
Because of our partnership with the Premier Foundation, UWS has assisted about 100 veterans and their families and awarded over $60,000.