Success Story: Shelly Waite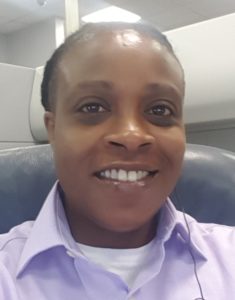 Veteran Shelly Waite worked in the Airman Services Career Field of the military and crossed-trained into becoming a flight attendant, flying on Air Force Two, which flew dignitaries, such as congressmen and congresswomen and the Supreme Allied Commander of Europe, SACEUR. Her last duty station was in Belgium, supporting the SACEUR and the NATO command.
After she transitioned out of the military, she lived in New Jersey and aspired to start her own business. But life had other plans for her. As she was walking along the streets of Philadelphia one day, she was knocked unconscious and raped. To regain her strength, she moved down to Upstate South Carolina without anyone to turn to or any place to stay.
As she lived, homelessly, in the Upstate of South Carolina, she came across Upstate Warrior Solution and requested more information. Justice-Involved Outreach Coordinator Ben Stubbs connected with her, telling her about Upstate Warrior and the different programs offered. One program he told her about was the TBRA program, a program that helps veterans with different resources; Another was Operation Good Jobs within Goodwill. Almost immediately, she joined the latter program and started working with the Upstate Warrior Solution Greenville Case Coordinator Janice Oliver, to find housing.
Meanwhile, at Goodwill, she met Wesley Meno and Toya Moore, who became employed there after their graduation of the Upstate Warrior Solution Fellowship Academy. The more Waite saw Meno and Moore, the more they shared their experiences of the program with her. And when the opportunity came for her to apply, she couldn't miss it.
With the help of Operation Good Jobs and its resume help, she submitted her updated resume to the Upstate Warrior Solution Fellowship Academy within the next couple days. Learning good application techniques, such as sending handwritten thank you cards and applying to multiple professional opportunities, she sent her updated application to AVX, an American manufacturer of electronic components, based in Fountain Inn, South Carolina.
A week after Upstate Warrior Solution offered her the fellowship, Robert Half, a temporary agency for AVX, offered her the position as a Risk and Compliance Manager. She accepted it and has been working there since the end of July.
In addition to the successful job reintegration, the housing search did not go in vain. She found housing, specifically an apartment complex. And within the past couple weeks, she relocated into her own home, in her own apartment, one in the Upstate of South Carolina, where she can continue her business aspirations. As of a few days ago, she signed her lease and became officially and successfully stably housed.
Now, she is working with two other Upstate Warrior Solution fellows in the Fellowship Academy to pursue her entrepreneurship goals. They are planning to start a nonprofit organization, helping female veterans facing homelessness.
Waite said that the one thing she learned from Upstate Warrior Solution is the importance of networking and building friendships. But she said that if she could pass on advice or a word to another veteran, she would say, "Never quit and always pay it forward."