Veteran Aquatics Program: "Nothing to lose; everything to gain."
Thanks to our partnership with Greenville County Aquatic Complex and their U.S. Masters Swimming program, Upstate veterans are hitting the pool to learn everything from basic swim safety to advanced swim techniques! Open to veterans with all swim abilities, participants in this six-week program meet Tuesdays and Thursdays from 7:00-8:00 a.m. at the Aquatic Complex in Greenville. Admission/Membership rates are based on disability rating.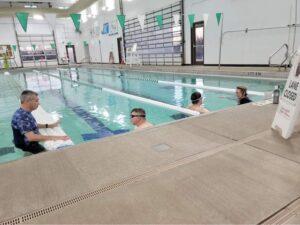 Whether you're a veteran bouncing back from injury or an experienced swimmer looking to improve technique, this program will meet you where you are. Two veterans share the impact of their experience:
"In October 2014, I was medically discharged from the Army with a 100% service-connected disability rating. I have spine problems, a torn adductor muscle, and a closed-head injury from a fall I sustained in the Navy. The VA told me to stop walking, issued me a snazzy wheelchair, and assigned me to the Spinal Injury Clinic.
"I was a Search and Rescue swimmer in the Navy and a combat medic in the Army, earning the EFMB badge. Everything I did I excelled at, and then it all stopped. I laid in my bed wondering what my next move would be, then Upstate Warrior Solution sent out an email for veterans to get back into the water and swim. I was excited but I had some concerns: Am I strong enough to swim again? Is it even safe for me to swim? I haven't swam in at least a decade, but like most sharks in the ocean, if they stop swimming they die. In my heart, I'm still a shark. I signed up for the swimming class.
"The morning I arrived, we talked about my extensive swimming experience. They immediately adapted the program to my skill level. I was impressed. The Masters Swimming portion was done in the big pool, and we swam in the heated Therapy Pool with a ramp for me to enter and exit. There is a PVC wheelchair that is available to get me in and out if needed. Lifeguards are everywhere for emergencies; I feel very safe. There is now a "crawl, walk, and run" program being implemented as a pathway to a Veteran's Master Swimming program. I hope, as I get stronger, to be a part of this program.
"If you're not comfortable around water, this program is for you. If you like to swim, this program is for you. It is a no-judgement zone. There's nothing to lose but everything to gain. My mobility went from nothing to being able to get out of bed on my own. I can now walk with my cane more than 100 yards. My flexibility has increased. I've lost almost 12 pounds. I feel like I have a purpose again. I am excited again to live after years of wanting to die. Bring it on." – Mike P., Army veteran
—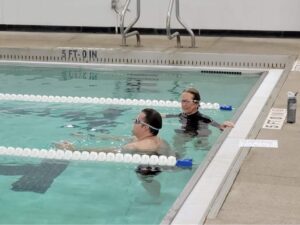 "After 22 years in the Navy SEAL Teams,  I am very comfortable in the water, and know the basics of every stroke. But I can always learn more, so I wanted to take advantage of the coaching in order to improve my technique by highly experienced coaches. It's a very rewarding program because they can help anyone of any skill level.
"I recently went through a shoulder surgery, and the swim instructors helped me modify my technique to protect and improve the healing process. I also learned how to be more efficient and increase my endurance with a few simple adjustments, which will also allow me to reach my weight loss goal much faster. I had to adjust my full-time work schedule to make it happen, but it was 100% worth it for the results I achieved." – Mike N., Navy veteran
Contact Josh Agripino to join the next cohort beginning February 1, 2022: jagripino@uws.us.