Veterans Treatment Court: A First Look
We had the privilege to sit down and talk to Volunteer Veterans Treatment Court (VTC) Mentor Mindy Williams and one of the veterans she mentored. They told us about their military backgrounds, their perspectives of the Greenville VTC program, which was started five years ago by the 13th Circuit Court, serving Pickens and Greenville Counties, through the Solicitors's Office and Judge Charles Simmons, and their reflections on what it has done for them.
Before Mindy joined the military or the VTC, she worked for a warehouse, now-called Costco. She took a pay cut when she decided to start her military career in the Marines, in 1985. Years later, she earned the rank of Colonel and continued her military career until 2015 when she retired with eight years in active duty and 22 in the Marine Corps Reserves. She deployed twice, as the senior Marine in Iraq and Afghanistan.
"The best part of my career was the deployments." Mindy continued, "The best part of stateside was Parris Island."
She moved to Greenville, SC in 2004 and was with the recruiting command for the area. In her journey with the command, she met our Executive Director Charlie Hall, who was a young lieutenant at the time and involved in the Marines For Life program. Eleven years later, Mindy was asked to join the Greenville VTC as a volunteer mentor.
As Mindy thought about why she started mentoring participants in the VTC, she said she felt this incredible need to give back to the warriors since she has been so blessed as a warrior herself. When this opportunity was presented to her, she knew this was how she needed to give back. Besides, she knew her military background gave her a different experience she could bring to the court and the veterans she would mentor every day.
In her four years mentoring participants in the court, she was assigned four participants, with whom she continues to have a professional relationship with. The last participant the court assigned to her was Craig, a tall veteran who transitioned nine years ago from his corporal postion in the Marine Corps Infantry.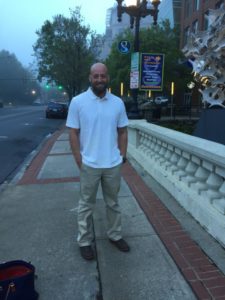 During her last experience with a participant, she noticed Craig at the VTC. He was in the process of entering the program and had no mentor yet, much less knew if he could join the program. He had just been charged in February 2017 and heard about the program from his lawyer.
"I don't know what it was about him, but I was like, 'That's my guy.' He's a Marine. I'm a Marine. And we speak Marine. There's just something about us. He can take me," Mindy continued, "So I saw him in the program and knew I would make a great mentor for him."
Craig played the waiting game, until he found out if he was accepted. He waited, without being convicted, until November 2017. Once his acceptance was official, the court assigned him to Mindy, and his transition to his treatment program began.
When Craig and Mindy met up for the first time and talked about everything that led up to the VTC, neither of them knew whether or not he would get out his current life circumstances. Craig's mind was stuck in the present, unable to see if his life could be better and unable to see a light at the end of the tunnel. He felt helpless and thought he would complete the program a year later without anything changing. He thought he would just do what he needed to do and be out. He started the program that way, in that mindset. He went through the motions, doing what he needed to do, coasting along, having the same problems with no real solutions.
Early in the program, there was an incident in the middle of the night when Mindy was at Chicago O'hare airport. Mindy wanted to fly home to work everything out, but there was no time. He needed her at that moment, so she stayed. She talked to him like that, over the phone, until the crisis was averted.
The more Craig began to call her, the more he found her at the gym, arriving or departing or working. He started to feel like he should be doing something as well, so he found a gym and began to do the same.
"It's that push, the motivation," Craig said. "She's doing this every day. I need to be up and moving."
He started to realize there were benefits to pushing himself at the gym. Not only did he not notice his pain and anxiety as much, but he started to feel the way he felt in the corps. It had been nine years, and he forgot what that was like, forgot what it was like to feel strong and capable of change.
Over the course of the eleven months in the program, things started to change for the better.
"I can't tell you how far he has come in this program. It's breathtaking." Mindy continued, "And it's all him."
Mindy said that although Craig made a mistake and landed himself in the program, there's a lot more to it than that. He had a much more severe combat deployment, which is why he ended up in the program.
The Corporal in the Marine Corps Infantry deployed twice. He deployed once to Fallujah, Iraq in 2006 and once to Guantanamo.
"When [Bradley Cooper in the movie American Sniper] was in Fallujah, going after the Sniper, we were actually doing the same thing," Craig said.
When Craig transitioned out of the military, he started having money issues, becoming depressed, and drinking at home, alone. On top the financial and mental health problems, he was prescribed five medications from the VA. All of those problems infected every facet of his life, until he started his treatment in the VTC.
"He accepted [his situation] even when I had a difficult time understanding it. And really, quite frankly, [He] did a better job than I did." Mindy continued, "He's earned my respect. Hence, my friendship."
Mindy was what, or whom, he needed to excel in the program. Craig knew he needed someone to correct him if he was wrong or made a mistake. He needed someone who was direct and straightforward and knew he got lucky when the court chose Mindy to mentor him.
Now, Craig is taking charge of his life and taking responsibility for his actions not sitting behind a pill. Once he started taking charge of his life, he began to alter the trajectory it was headed. From there, everything got better.
"Just focusing on yourself and your health radiates to the people around you." Craig continued, "It's really just a lot of self-reflection. You have to look at your flaws and just slowly try to repair the pieces that are broken in your life in order to make everything around you better."
Over the last year, the two of them have become close, bonding over their marine background and gym time. To Mindy, Craig became like family, calling as much as someone would call their Mom every week.
According to Mindy, mentoring someone is a lot like being a mother. You start off as the person's guide in life, their support system. Like a parent and child relationship, the child has to have rules and cannot be let to do whatever they want, whenever they want. The same goes for a mentor and veteran relationship. If the mentor is enabling the veteran they are mentoring, letting them do whatever they want, there is a chance the participant will fall back into their old ways and not do everything the court requires them to do. If this happens, the veteran could be kicked out of the program and sent to fulfill their sentence and be back where they started.
Craig agreed without the mentor, the guidance, the program would just fall apart.
Because Mindy was his guide, his support, through the program, standing firm in her guidelines and keeping him on the right path, Craig stayed on his treatment plan. He continued to stay sober and kept communicating as he should, as much as he should.
Now, according to Mindy, because of the Veterans Treatment Court Program, what's going on in his life, is nothing short of a miracle. "If you knew what happened in his family, it's really miraculous. There's no way even I could see it coming," Mindy continued, "I mean, the way he looks, everything."
Not only did their experience solidify to Mindy that giving back is worth it, but Craig's mindset shifted. He realized when you are optimistic and have a positive outlook, as you look toward the future, you start to realize more is possible.
Craig looked back on his life and understood how alcohol poisoned his family and how he could take charge and change his life for the better. He learned to understand the role of the mentor and realized he could be one, too.
"With the mentors, they have to be dedicated to the program. I know I could call her anytime, and there's going to be someone to answer the phone. Or if not, there's going to be a call back within a reasonable time frame. It's not a job where you turn off your email for the weekend and just enjoy yourself." Craig continued, "Life happens 24/7, and if you're not there to guide like a mentor should, things could go really bad at any time, even in the middle of the night. So the dedication has to be there for this program to work."
Mindy would love to see the Veterans Treatment Court Program grow. She knows there are plenty of veterans out there who need help and plenty of people out there who want to do what she does, who want to give back.
About the Veterans Treatment Court Program
The VTC is a means for eligible veterans to be diverted from the traditional criminal justice system and provided support and rehabilitation, like other diversionary courts (I.e, Drug Courts, Mental Health Courts). To be eligible, the veteran must be charged, as opposed to convicted, with a qualified, nonviolent felony, one which ties to their military background. For instance, the veteran might be arrested for illegal drug use, alcohol misuse, or firearm charges and have a prior diagnosis of PTSD.
"The biggest [offense] is substance [misuse]," said the Upstate Warrior Solution Justice-Involved Outreach Coordinator Ben Stubbs, who goes to the detention center in Spartanburg and reports on who's qualified for the program.
Once accepted into the court, which is a 12-month long program with three phases, the participants take a plea before the court. After their plea, their sentence is withheld, until they complete, drop out, or are kicked out of the program.
The first phase is where the court will orient the veteran participant to the program and assign them a peer mentor, who will support and encourage their participant counterparts, as well as assist them with court proceedings, maintain weekly communication, and aid them in getting all of the assistance, treatment, or services they will need to succeed. This first phase will last at least six months, and the court will review each participant's case every two weeks. Once the VTC is shown the participant can handle the first phase, the participant is promoted to the second phase.
The second phase will last for at least three months. In this phase, the court will develop an action plan for the participant's treatment and review the individual case every four weeks. Once the participant has graduated from this phase and has shown the court they have been sober for at least twelve weeks, they move on to the third phase, which will also last for at least three months. The third phase will transition the participant back to independent living.
If the participant does not graduate, drops out before the program ends, or is kicked out, their plea will be carried out by the court, and they will resume their sentencing. That being said, if the participant graduates, the court will clear, or expunge, their charges.
Two years ago, the 7th Circuit Court, serving Spartanburg and Cherokee Counties, started this program through the Solicitor's Office and Judge Keith Kelly. Since its inception, the VTC program graduated two veterans.
Currently, the 10th Circuit Court, serving Oconee and Anderson Counties, will be starting this program in Anderson through the Solicitor's Office and Judge Cordell Maddox.