Volunteer Spotlight: Sara McAvoy
Starting in February 2021, Sara McAvoy, a counselor with Universal Therapeutic Services, will facilitate our UWS Family Services Cornerstone Heroes Support Group to be held the last Saturday of each month from 10 a.m. to 12 p.m.  Sara has been a part of the Upstate Warrior Solution family since 2020. During this time, Sara completed her internship with us.
Raised in Greer, South Carolina, Sara left to attend West Point, where she graduated in 2004 with a Bachelor of Science in Information Systems Engineering. She served in the U.S. Army as a Transportation officer in Germany, Iraq, and Ft. Eustis, VA. After getting out of the Army, she married Serge, a fellow Veteran, who continued serving until retirement giving Sara the opportunity to be a military spouse for 10 years.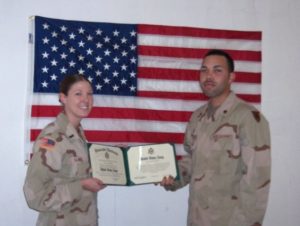 Following Serge's Army retirement in 2019, Sara and family settled in Greer, SC, and she began working on her Master's in Social Work with the goal of being a clinical therapist for Veterans and their families after she graduates in May of 2021. She enjoys eating tacos, playing corn-hole, running, and spending time with Serge and their children, Lina, who is 15, Sophia, who is 9, Ronin, who is 6, and Rhett, who is 3.