Warrior Wednesday: Curtis Smith
Today's Warrior Wednesday is Curtis Smith!
Curtis enlisted in the U.S. Army in 1999 as a Petroleum Supply Specialist. While serving, he also performed the duties of a Personal Security Detachment Gunner, UH 60 Blackhawk Door Gunner, Combat Logistics Patrol Commander, and Senior Instructor for Advance Individual Trainees. He deployed to Iraq in 2005 and 2008, Pakistan in 2010, and Afghanistan in 2012. Today, Curtis is a teacher assistant and coach at James F. Byrnes High School.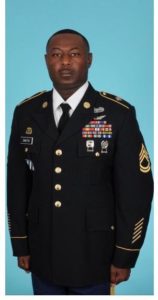 "What I enjoyed the most during my time of service was my ability to lead and provide mentorship to younger soldiers and leaders." Curtis continued. "This allowed me to develop and build trusting relationships as well as comradery between me and my soldiers."
"As a football and wrestling coach, each day I try to find ways to build a closer relationship with my players while reminding them of the importance of building strong and positive relationships with others. I believe building strong and positive relationships are essential to how we function in society and is key to being successful in the world today."
Know a warrior like Curtis whom you think we should feature? Nominate them!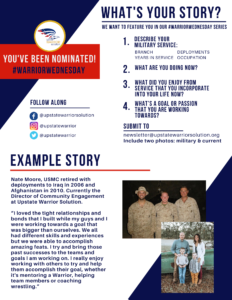 To feature them, we need a description of their military service as well as to know what they are doing now, what they enjoyed from service they incorporate into their life today, and what is one goal or passion they are working towards. The information can be sent to newsletter@upstatewarriorsolution.org along with the warrior's name and how they can be contacted.