Warrior Wednesday: James Mulak
Today's
#WarriorWednesday
is James Mulak!
Originally from Buffalo, NY, James Mulak served in the
U.S. Marine Corps
Infantry from 2001 to 2009. He deployed to Iraq in 2003 and 2004 to 2005. He also deployed to New Orleans for Hurricane Katrina relief in 2005. He was a weapons instructor at Parris Island, SC. After he transitioned out of the Military and landed at
Greenville Technical College
then
Limestone University
, he interned at Upstate Warrior Solution (UWS) and accepted the Spartanburg Director position. He is currently the Director of Warrior Advocacy at UWS with offices in Greenville and Spartanburg. At this time, he is part-time as he attends
Boise State University
online and works towards his MSW degree. He lives in Woodruff, SC with his wife, Amber, and their four kids.
James is continuing to serve the ones who served. "I served my country, and now, I'm serving the men and women who came before and after."
Know a warrior like James whom you think we should feature? Nominate them!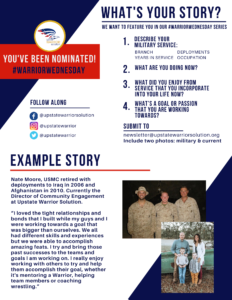 To feature them, we need a description of their military service as well as to know what they are doing now, what they enjoyed from service they incorporate into their life today, and what is one goal or passion they are working towards. The information can be sent to newsletter@upstatewarriorsolution.org along with the warrior's name and how they can be contacted.