Warrior Wednesday: Lindsay
Today's Warrior Wednesday is Lindsay!
Lindsay enlisted in the NY Air National Guard in February 1999. After 9/11, she was deployed, both stateside and overseas, for 3 years. She was enlisted as Security Forces (Military Police) troop for her entire career in the Air Force. During her 20-year career, she deployed multiple times with a total of 8 years of active duty. She retired from the SC Air National Guard in February 2019.
She is currently our UWS Fellowship Program Manager. She said, "I love spending time with my son most of all." She also loves hiking, biking, reading, and listening to music.
"I enjoyed the camaraderie, the structure, and the opportunity to see parts of the world many will not." Lindsay continued, "I take all my experiences in the Military, good and bad, and use them to become a better mom, friend, manager, and employee."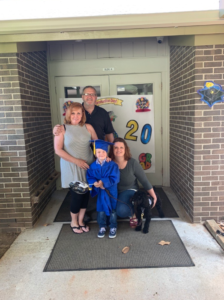 She said her passion is to help the veterans in the Upstate as well as anyone she may come across. "When I was an NCO, my goal was to always help the troops I managed to be better people, both in the Military and in their personal lives." Lindsay continued, "My goal now is to guide the Fellows I manage [and help them] transition from Military life to civilian life."
Know a warrior like Linday whom you think we should feature? Nominate them!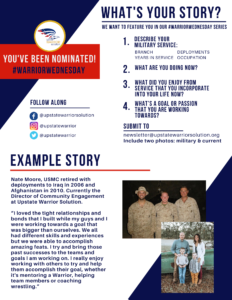 To feature them, we need a description of their military service as well as to know what they are doing now, what they enjoyed from service they incorporate into their life today, and what is one goal or passion they are working towards. The information can be sent to newsletter@upstatewarriorsolution.org along with the warrior's name and how they can be contacted.