Warrior Wednesday: Nate Moore
Upstate Warrior Solution (UWS) is starting a Warrior Wednesday post series, where we highlight the military service and post-service achievements and ambitions of local warriors.
Our first warrior is Nate Moore! Since retiring from the U.S. Marine Corps with deployments to Iraq in 2006 and Afghanistan in 2010, he has been at Upstate Warrior Solution, currently as the Director of Community Engagement.
Nate said, "I loved the tight relationships and bonds I built while my guys and I were working towards a goal that was bigger than ourselves. We all had different skills and experiences, but we were able to accomplish amazing feats. I try and bring those past successes to the teams and goals I am working on. I really enjoy working with others to try and help them accomplish their goal, whether it's mentoring a Warrior, helping team members, or coaching youth wrestling."
Know a warrior whom you think we should feature? Nominate them!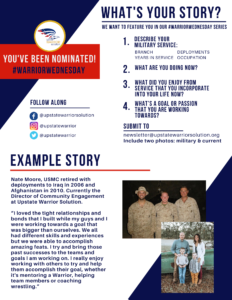 To feature them, we need a description of their military service as well as to know what they are doing now, what they enjoyed from service they incorporate into their life today, and what is one goal or passion they are working towards. The information can be sent to newsletter@upstatewarriorsolution.org along with the warrior's name and how they can be contacted.