Warrior Wednesday: Randy Hudson
Today's Warrior Wednesday is Randy Hudson. Randy served on Active Duty in the U.S. Navy as a Petty Officer Second Class in the Persian Gulf Era. He served from 1987 to 1992.
He spent four years on the US Midway as a weapons technician then went to Hawaii for the decommissioning for it. Next, he crossed over to the USS Independence for a year. Then, they changed his rate and told him he would have to go back to another rate and have five years of sea duty. Because he was already married, had two children, and missed his daughter's birth and other firsts and did not want to miss any more, he got out and stayed in Japan for another four years before he and his family moved back to the United States.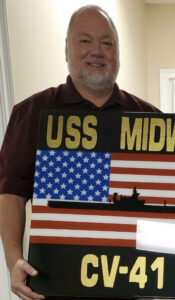 Since then, he has been in the residential construction business for about 20 years. He has been a building inspector, warranty manager, construction manager and is currently a purchasing manager. "We're growing the company and hiring people and making changes, and we're actually looking at making more changes." Randy continued, "We're looking to hire builders right now."