Warrior Wednesday: Sam Wigley
Today's featured warrior for Warrior Wednesday is Sam Wigley!
Sam served in the Marine Corps from 2008-2012 as a Marine Corps Infantryman with 1st Battalion 2nd Marines stationed at Camp Lejeune, NC. He deployed to Helmand, Afghanistan in 2010 and would go on to serve aboard the USS Kearsarge as a part of a Marine Expeditionary Unit.
After service, Sam went on to attend Clemson University, graduating in 2016. At Clemson, Sam served as the Clemson Student Veterans Association president for two years. In that role, Sam first worked with Upstate Warrior Solution, which would lead to his current role as a Warrior Advocate.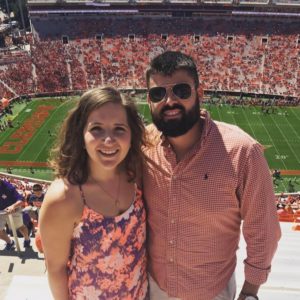 Sams fiance, Erin, is currently serving in the United States Air Force as a 1st Lieutenant deployed overseas.
Know a warrior, like Sam, whom you think we should feature? Nominate them!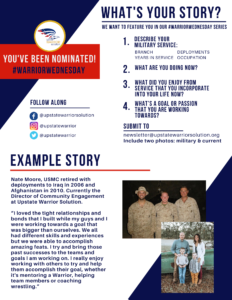 To feature them, we need a description of their military service as well as to know what they are doing now, what they enjoyed from service they incorporate into their life today, and what is one goal or passion they are working towards. The information can be sent to newsletter@upstatewarriorsolution.org along with the warrior's name and how they can be contacted.