Whatta Wash Fundraiser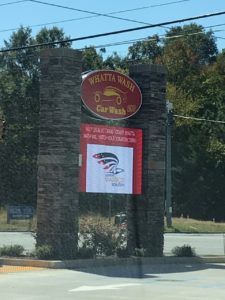 Upstate Warrior Solution (UWS) partnered with Whatta Wash Car Wash to hold a matching fundraiser up until Veterans Day, November 11. If you donate $5, Whatta Wash will match the donation with $5 so your donation will be doubled.
Whatta Wash has also living and deceased veteran signs for Veterans Day for sale. Purchase red, white, and blue for living veterans, and black ones for deceased veterans.  The signs are $15 for purchase. If a $15 sign is purcased, Whatta Wash will also donate $15 to UWS. Purchase a sign by filling out this form: https://bit.ly/35wyql9.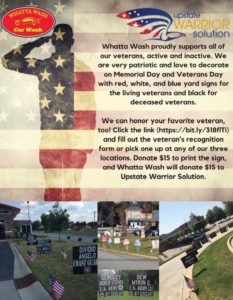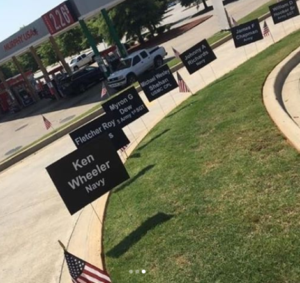 We would be filled with gratitude if you would love for you to be able to join us by going to one of the Whatta Wash Car Wash locations as follows:
Whatta Wash Car Wash West: 2414 Reidville Rd., Spartanburg, SC 29301
Whatta Wash Car Wash East: 2171 E. Main St., Spartanburg, SC 29307
Whatta Wash Car Wash 290: 1685 E. Main St., Duncan, SC 29334
Whatta Wash Car Wash is open Monday through Friday from 8 a.m. to 7:30 p.m. They are open on Sundays from 8 a.m. to 6 p.m. Whatta Wash is a member of the International Carwash Association. Follow them on Facebook, Twitter, Instagram, or YouTube. For more information, visit them at https://www.whattawash.com.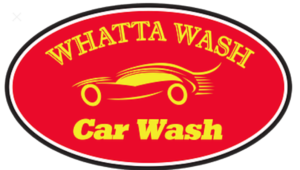 UWS is a community-based 501(c)3 nonprofit organization that CONNECTS warriors and their families to resources and opportunities, LEADS them through the process of self-empowerment, and INSPIRES the community to embrace local warriors and their families as valued neighbors and friends. UWS serves Anderson, Oconee, Pickens, Spartanburg and Greenville counties. The vision of UWS is to restore our warriors with a sense of purpose and to empower the community to be responsive to our warriors and their families. Learn more about Upstate Warrior Solution at upstatewarriorsolution.org. Follow us on Facebook, Twitter, Instagram, LinkedIn, or Vimeo.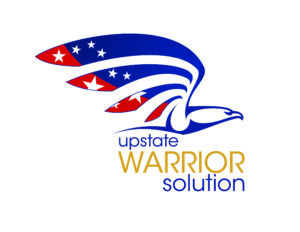 Thank you for your support!